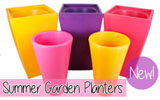 Why not add some colour to your garden this summer with one of our garden planters? We have a new range of colours to choose from, such as summer pink, orange, purple and more.



Water Tank - UK Manufacturer
Welcome
At Water Tank, we manufacture a wide range of water tanks in our UK factory, from small 75 litres to our large 25,000 litres. We take pride in manufacturing all of our Ecosure tanks to a high specification and they're regularly quality tested before dispatch.
All our water tanks that we manufacturer are manufactured from high quality MDPE (Medium Density Polyethylene) which creates a durable, high quality and weather resistant product.
When manufacturing our tanks, we use the latest UV stabilization technology which protects the tanks, when in contact with direct sunlight, ensuring that the sun will not affect the integrity of the product by weakening it over time.
We ensure we deliver the best quality customer service to our customers, leaving them satisfied and happy with their purchase. If anyone has any product queries or problems, please call our friendly sales team on: 01763 261781 and they will be happy to help.
Our Water Tanks
1. Vented / Non Vented Lids
Our water tanks come standard with standard fitted, Vented and Non vented lids. They are available is sizes 4", 8", 14" and 16".

2. High grade Polyethylene (MDPE)
Our UK manufactured water tanks are high quality and only use high plastic polymers, to ensure we get the best quality moulding results.

3. BSP Outlet
A lot of our water tanks are moulded with a BSP outlet, making it easier for you to use. You can use it to connect a simple brass tap, or a shut off valve.
Best Sellers - Water Tanks
At Water Tank we sell a selection of agricultural products, such as fertilizer tanks, molasses tanks, milk tanks and sprayer tanks. We sell different sprayer filters too, which go great with our sprayer tanks - Perfect for your farming needs.
Our agricultural storage tanks are high quality manufactured in our UK factory, from the finest quality plastic. Impact and weatherproof, our agricultural tanks are perfect for farm life.

Water Tank
UK's Number 1
Plastic Manufacturer
David Blake - Birmingham
"Ordered a Rainwater Harvesting tank for my garden and it arrived quicker than expected. Also was on offer for free delivery which made it even more of a bargain. The information from water-tank on the phone was a great help."
Annie White - Cambridgeshire
"Lots of products and very helpful customer service, thanks."
Samantha Kerry - Hertfordshire
"I decided to order a dog bath from water-tank as they looked durable compared to other pet store chains and came in a variety of colours. Slightly more cost wise but very high quality plastic, so would recommend!"
Mark Jones - Essex
"Good selection of tanks, trusted seller."
Robert Curtis - Wales
"I ordered a rainwater harvesting system from water-tank and it was easy to set up. water-tank were really helpful when choosing an underground water tank, as I hadn't used a rainwater harvesting system before."
Hannah Davis - Cambridgeshire
"So many products on water-tank. My order arrived quickly, will order again."
Matthew Granger - Suffolk
"I ordered a water tank and the quality of the plastic, was a very good standard. Pleased that it was manufactured locally in the UK too. Fast delivery, would recommend"

Pet supplies : Shallow and deep sized dog baths, perfect for dog grooming. Suitable for small and large dog breeds.